Moving home in winter
Winter weather can be unpredictable. While we generally don't get too much snow, rain, cold temperatures and even a dusting of snow may happen on moving day, so it is best to be prepared for any weather for your move.
Talk to your removal company
Make sure your removal company uses floor coverings at both your old and new home - even if it is just raining - to protect the floors at both your old and new homes and reduce the amount of cleaning necessary.
Ask them about their supplies and plans for winter weather, and confirm your move with them the day before it is scheduled (even if the weather is clear and isn't scheduled to change).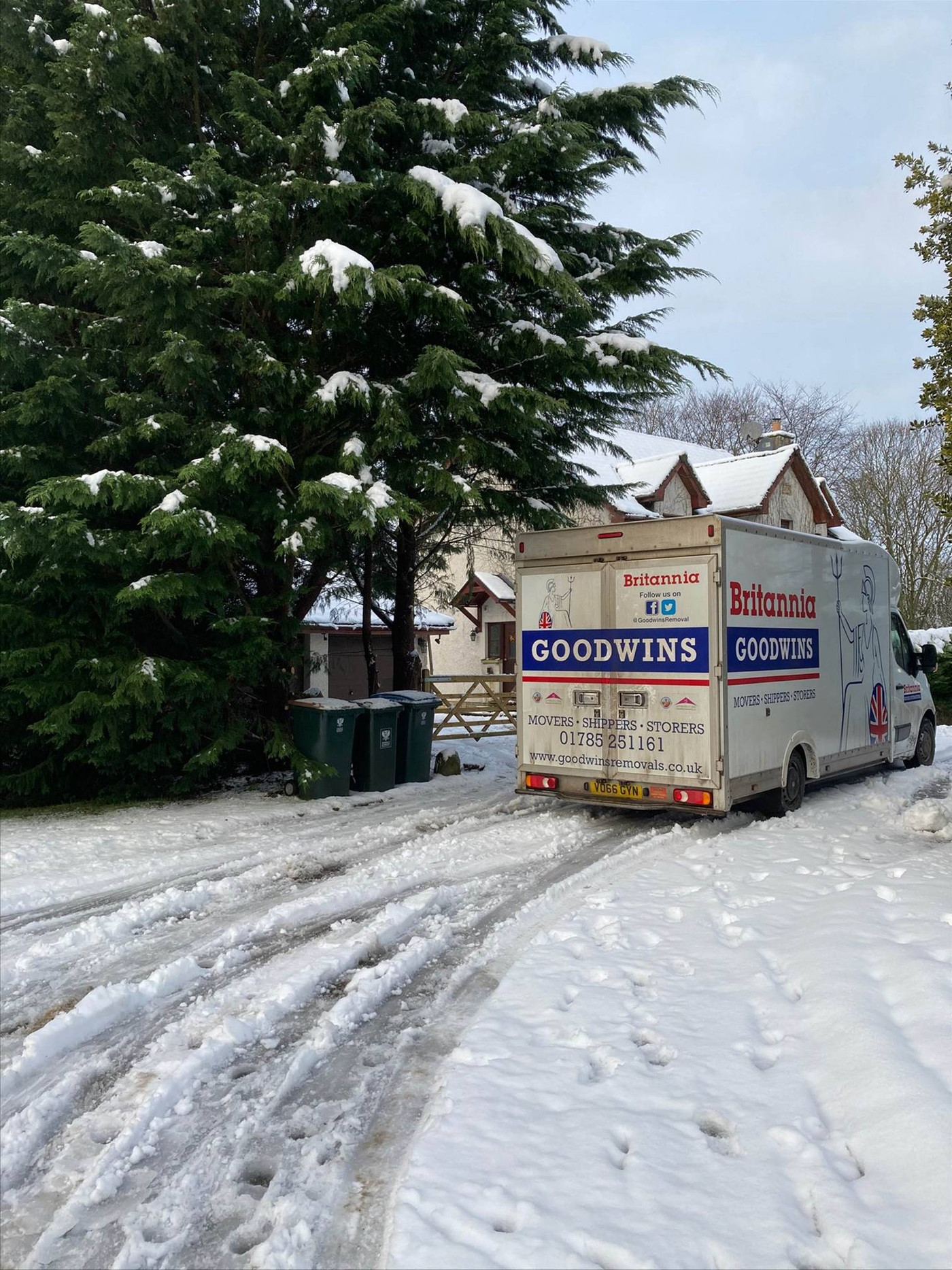 Winter supplies
When moving home in winter, you need a few extra supplies to help ensure your moving day goes smoothly
Before moving day, keep a supply of grit or ice melt and a shovel or broom to clear away any snow that may fall or ice that develops - be sure to keep them easily accessible so you don't need to hunt for them if you need them
Unadopted or non-public roads require a bit of extra effort from you - you'll need to know what you may be responsible for with any snow or ice removal to ensure the removals van can get down the road safely - remember that the removal truck may need to manoeuvre or turn around on the road
Alert your neighbours! You should let both your current and new neighbours know your moving date and approximate time of your move, in case they need to move their cars
Don't move in the dark
While it makes sense to make the most of the daylight available during winter months, often even in the height of the day the light is lacking - make sure your home is well-lit. Don't forget to bring light bulbs for your new home (know which types you'll need, or bring a selection if you don't know the types of bulbs your new home will require), and bring table or utility lamps to ensure every room, along with the loft, cellar and garage, has enough light for your removal to be performed safely
Stay warm
Don't pack your hats, scarves, coats and gloves. You'll be going in and out of your home, and the doors will be constantly open at both your old and new home
Dress in easily-removable layers - you'll want to stay warm, but a bulky coat will only be annoying and not as effective
Make sure the kettle can be found easily - a warm drink and mug to hold will help you warm up on a cold moving day
Have a box with toiletries and towels (so you can take a shower in your new home), along with a couple of throws to snuggle under with a cuppa before your new home is fully warmed up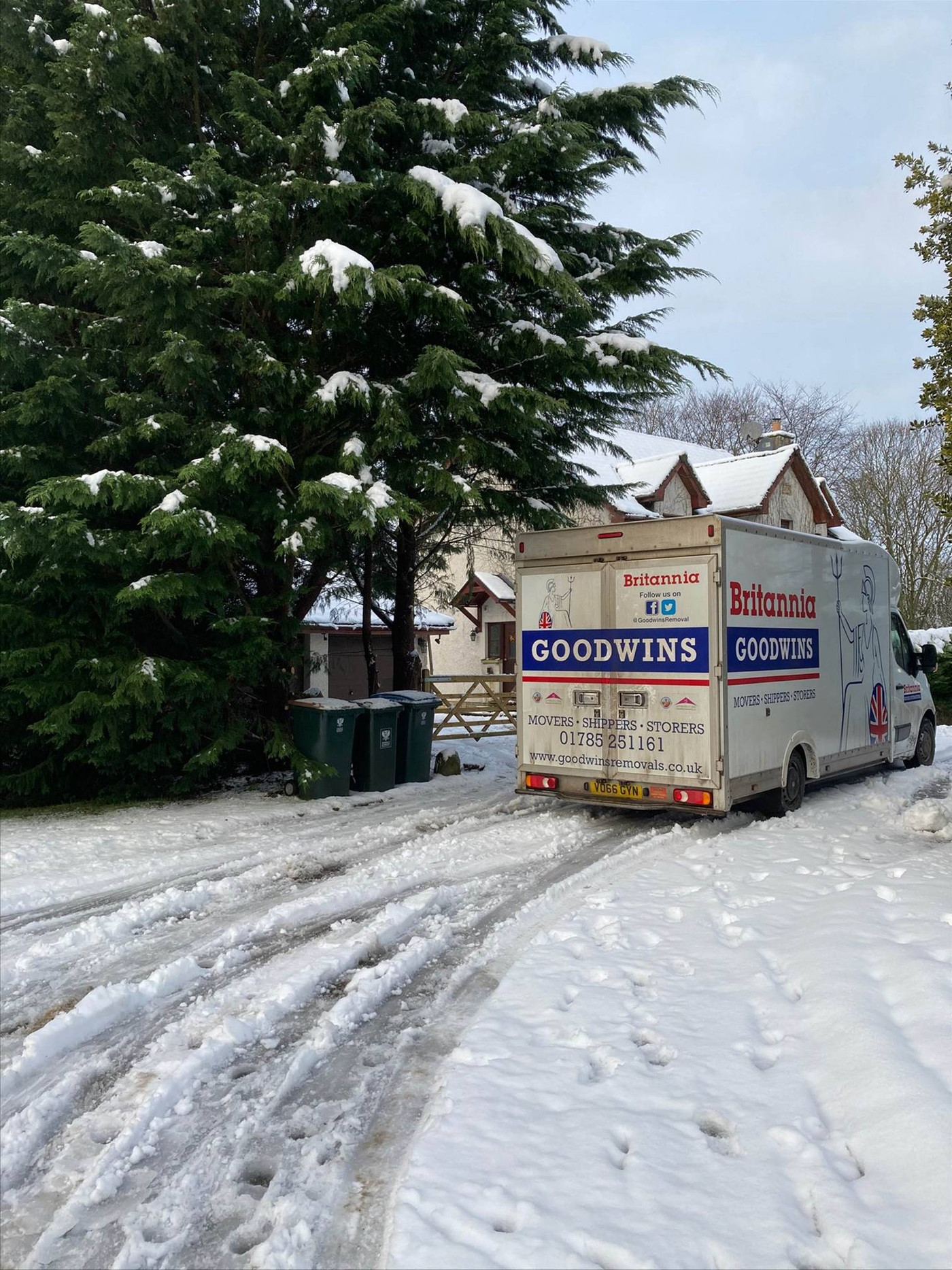 Removal quote appointment booking service
Britannia Goodwins Removals & Storage can help your move go smoothly. Contact us for a free, no obligation quote, or by calling 01785 251161 and speaking with one of our Stafford and Cheshire removals specialists.
How are our appointments carried out
In the current times you might prefer that we don't visit your house in person to carry out a survey. This is fully understandable and we can just as easily undertake the survey by video call, using whatever method you're comfortable with, usually FaceTime or WhatsApp.
See what our customers think of us...
Had full confidence
Removals crew were very helpful, courteous people. Have used previously. I have used your company before and had full confidence in them.
Michelle Hydon
Stafford
Helpful and accommodating
I have completed the online survey but also wanted to thank you for the support you gave me in arranging my house move. At all times you were very helpful and accommodating especially when sorting the move down to Sussex.
I would like to thank Paul and Alan who packed me up on 31/03/2021 and Darren S, Darren G, Rob and Ian who travelled to Sussex and unpacked us. They were all great workers and very thoughtful throughout.
Thank you all again.
Jane Capey
Stafford
On time as planned and unpacked us in record time
Paul and Alan packed up the house - very helpful and made it all very easy. Darren S, Darren G, Rob and Ian travelled to Sussex to unpack. They were here on time as planned and unpacked us in record time, despite not being able to park close to the house. Friendly and kind at all times. An excellent crew on both occasions. Thank you.
I have used the company before when moving my parents and was very impressed then.
Comments regarding your initial enquiry - I dealt with Matthew Myers who completed the survey via WhatsApp. Very efficient.
Jane Capey
Stafford
Appreciated everyone being so efficient at ensuring social distancing
We had John, Kim and Rob to pack our things and Lee and the team to do the removals. Everyone was so friendly and did such a great job, and we really appreciated everyone being so efficient at ensuring social distancing too as we have a very young baby who we are trying to shield. Everyone also treated our belongings with such respect which we really appreciated after a bad experience with a different removals company previously resulted in lots of our things being damaged.
Used the company because of good online reviews and great service from staff when we initially contacted with an enquiry.
Comments regarding your initial enquiry - Received a response to my initial enquiry really quickly and had all my questions answered.
Ruth Pickles
Stafford
UK Quote
Complete the form below to get your UK Removals quotation
European Removals Quote Request
Complete the form below to get your European Removals quotation
International Removals Quote Request
Complete the form below to get your International Removals quotation
Call Me Back
Complete the form below and we'll call you back to discuss your requirements
Self Storage
Complete the form below to get your Self Storage quotation
UK Price Guide
Complete the form below to get a Price Guide sent to you
Please note: Our Price Guide tool is intended for moves within the UK Mainland only. If you're moving to or from the UK mainland please speak to one of our friendly team who will be able to provide you with a bespoke quote.